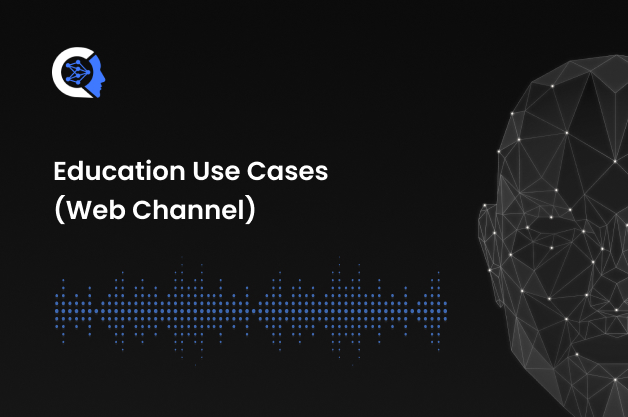 Admin • 29 September 2021
Education Use Cases (Web Channel)
We implemented this use case for a University in the United States where one college was struggling to handle queries from prospective students while filtering out prospective leads who are likely to enroll in the College. Admissions office had previously handled all these inquiries manually which had been challenging and tedious, especially during the times when the college admissions were open.
The college approached Cognius.ai team to design a web-based solution incorporating both text and voice to automate the process of answering general questions related to the college and admissions while automatically filtering out prospective leads who are the highly probable students having a genuine interest in applying for the college, based on the answers they provided for a set of questions. The college also needed to capture the contact details of those prospective leads along with their programs of interest.
Our AI based Interactive Virtual Agent (IVA), Sofia was a good fit to automate and replace this manual process through a web-based chat interface via text and voice channels. This not only reduced the manual labor needed for the laborious task of answering general user queries but also smoothened the process of collecting leads efficiently in a scalable landscape, making the service available round the clock not to miss any leads.
Solution Architecture
For solutioning, Sofia AI platform was deployed on a scalable cloud server setup enabling inputs from the user in text and voice channels. Inputs via these channels from web users were captured and processed to answer their queries in natural language and filter out the leads. The filtered leads were then pushed to the internal data management application of the College. Statistics related to inquiries made by the users were analyzed and insights were provided through the incorporating Sofia Analytics Dashboard to refine and improve the service.
Implementation
The designed solution was implemented according to the client's needs and was improvised continuously over a period of time incorporating the feedback obtained via our customer experience team, to easily and effectively achieve the goals set out by the customer. After the initial round of refinement, when it was made available for public use, most of the website visitors have conversed with our IVA to clarify their queries while in turn the IVA has been able to capture a number of prospective leads which were pushed into the college's internal data management application.
The college was able to collect a number of valuable prospective leads without exhausting the manual resources of the office of admissions while getting a clear picture on what details users inquire frequently through our Sofia Analytics Dashboard.
Conclusion
It is evident that this automation paves the way for education institutions to easily capture prospective leads for enrollment, saving the cost of manual labor required. Also, round the clock availability of the service ensures that all the possible inquiries are answered even beyond working hours without missing to capture any of the available leads, proving its real value.